Book Series
Attorney Douglas Dykes has written three books available here for free in PDF format. Learn about Personal Injury Cases and Automobile Insurance Coverage in these three books.
"Pursuing Justice for the Injured"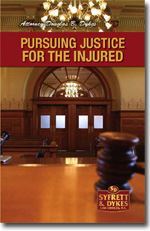 What really happens in Court? What is the focus really about? I wrote this book to help my clients and other interested parties understand what really matters when a personal injury case goes to Court. I spent time in this book trying to explain how Florida Automobile Insurance law works in conjunction with what is referred to as "threshold injury" or "permanent injury". I also took a great deal of time in looking at the most relevant jury instructions regarding personal injury cases. From watching many juries over the years I can personally tell you that they listen intently to the Judge when he reads the jury instructions, they are told over and over that they must follow the jury instructions and they are now given a complete copy of the jury instructions to take back with them during their deliberations. I hope this background knowledge will help you achieve justice in your case.
---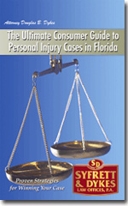 "The Ultimate Consumer Guide to Personal Injury Cases in Florida"
In a nutshell, if you've been injured you have just been forced into a world where what you don't know can hurt you! My purpose is writing this book was to peel back the cover on how claims are really handled by insurance companies and to help the injured have a basic understanding of how a personal injury works. The average consumer is not expected to know this information. However, after being injured not knowing this information can really become costly. I hope this book helps you understand better how and why personal injury cases really work and are evaluated.
---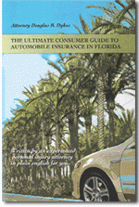 "The Ultimate Consumer Guide to Automobile Insurance in Florida"
Learn how Florida law really works when it comes to Automobile Insurance. As the book states, after having to tell so many potential clients over and over that I could not do anything to help them because there was no insurance to help them with, I wrote this book to help everyone. In short, Florida Automobile Insurance can be a confusing maze with all the different types of automobile "coverages" that there are in Florida. I hope this book will assist you in making the right decisions regarding your insurance coverage.
Fill Out Our Contact Form Below and Request a Free Download of Our E-Book!