Hurricane Claims
Representation from Trusted Panama City Insurance Claim Lawyers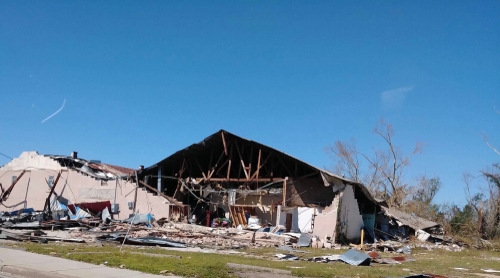 After Hurricane Michael devastated a wide swath of Florida, countless property owners were faced with the challenge of filing an insurance claim for coverage and compensation. Problems arise when insurance companies are more focused on saving their bottom line than supporting their policyholders and people in need, though.
Homeowners and business owners need to be fully aware of the probability that their Hurricane Michael claim, or any other hurricane claim for that matter, will be unfairly undervalued or outright denied by their insurance provider.
Syfrett, Dykes & Furr is here to help you create, manage, and fight for your hurricane insurance claim. Our Panama City insurance claim attorneys have 100+ years of collective experience handling complex, high-stakes cases for our clients. Throughout our law firm's history, we have successfully gone toe-to-toe with all sorts of major insurance companies and providers. We would be happy to see if we can do the same for you in your Hurricane Michael insurance claim.
Call (850) 795-4979 now to arrange a free consultation with our team.
How Insurance Companies Mismanage Hurricane Claims
A major disaster like a hurricane means hundreds or thousands of people need their property insurance to get them back on their feet. The entire purpose of hurricane and disaster insurance is making certain people can rebuild and regain comfort, after all. Yet insurance companies know that a massive influx of insurance claims will slam them after a natural disaster.
Despite their obligation to payout all claims fairly to policyholders, dishonest insurance companies may commit bad faith insurance to avoid or delay that responsibility to protect their own coffers.
Bad faith insurance can be committed when an insurance company:
Denies an insurance claim without due cause.
Waits until outside the accepted response time to reply to a claim.
Intentionally delays any investigation of a policyholder's property for an appraisal.
Knowingly undervalues the damages suffered by a policyholder.
Fraudulently alters a policyholder's insurance claim filing.
Changes an insurance policy while a case is pending and attempts to enforce the new statutes.
Fast-Acting & Compassionate Legal Representation for Policyholders
If you are unsure of what to do after Hurricane Michael or another hurricane devastated your property, please know you can come to Syfrett, Dykes & Furr for legal counsel, assistance with claim management, and moral support.
Our Panama City Hurricane Michael claim attorneys are here to help you create and file your property damage claim. In case of bad faith insurance on part of your insurer, we will be ready to respond on your behalf, including providing legal representation in court if need be.
Prioritize your own well-being by calling (850) 795-4979 to request a no-cost case evaluation about your case. Se Habla Español.