In Appreciation of Pauli Murray for Women's History Month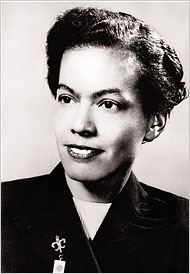 March is women's history month, and for that we want to honor the notable female attorney Anna Pauline "Pauli" Murray (1910-1985), for her work in advancing the civil rights and women's rights movements. Among her many achievements, Murray was the first African American to earn a doctorate of juridical science (JSD) from Yale Law School in 1965, co-founded the National Organization for Women (NOW) in 1966, and became the first black female Episcopal priest in 1977.
Born in Baltimore, Maryland, Murray was raised by relatives in Durham, North Carolina, having lost her parents at a young age. Her father was beaten to death by a guard at Crownsville State Hospital where he'd been confined due to emotional problems as a result of typhoid fever. At the age of 16, Murray moved to New York to live with a cousin, and there she finished high school and applied to Columbia University, where she was rejected due to her gender, and to Barnard College, where she was rejected due to lack of money. She was accepted to Hunter College, where she graduated in 1933 with a BA in English.
In 1938 Murray applied to law school at the University of North Carolina, but was rejected due to her skin color. In 1944 Howard University accepted Ms. Murray, awarding her a law degree but denying her the Julius Rosenwald Fellowship for Harvard University graduate work due to her gender, in spite of her achievement in graduating first in her class, while men who did the same were allowed that opportunity.
After her arrest and jail time for civil disobedience due to refusal to sit in the colored section of a bus in Virginia, Murray worked with the Workers' Defense League (WDL) and Eleanor Roosevelt for the rights of Odell Waller, a black sharecropper who'd been sentenced to death for killing his white landlord, a case in which WDL argued that Waller killed in self-defense.
In spite of, or perhaps because of the many hardships Murray faced in early life, she persevered and became California's first black attorney general and was named "Woman of the Year" by the National Council of Negro Women and Mademoiselle magazine. Dr. Murray published States' Laws on Race and Color, a work that influenced the NAACP's arguments in the Brown vs. Board of Education of Topeka, the landmark case in which the US Supreme Court declared that segregated schools were unconstitutional. Thurgood Marshall called her book the bible of the civil rights movement. In 1956 she published a memoir, Proud Shoes: The Story of an American Family. By 1965 Murray earned her JSD from Yale Law School.
Murray taught at several universities, including the Ghana School of Law in Accra, Ghana, where she lived from 1960 to 1961, and later at Brandeis University. Former President John F. Kennedy appointed her to the President's Commission on the Status of Women Committee (PCSW). She also worked with civil rights leaders A. Phillip Randolph, Bayard Rustin and Martin Luther King, Jr.
In later life, Dr. Murray focused more of her efforts to her priesthood, after obtaining her master of divinity degree from Yale in 1976 and becoming ordained as the first African American female Protestant Episcopal priest a year later. Murray died of cancer in 1985 in Pittsburgh, Pennsylvania. In 2012 she was sainted by the Episcopal Church for her advocacy for freedom and justice for women and African Americans.
Reverend Dr. Murray's tireless pursuit of freedom and justice in spite of the obstacles she faced serves as an inspiration to us, and we want to recognize her for her groundbreaking efforts.
For more info:
"Pauli Murray." Bio. A&E Television Networks, 2015. 05 Mar. 2015. ‹http://www.biography.com/people/pauli-murray-214111›.
"Pauli Murray Named to Episcopal Sainthood." Duke Today. Duke University Office of News & Communications, 14 July 2012. Web. 05 Mar. 2015. ‹http://today.duke.edu/2012/07/saintmurray›.
Pauli Murray Project. Franklin Humanities Institute. Web. 05 Mar. 2015. ‹http://paulimurrayproject.org/pauli-murray/›.
"Pauli Murray." Wikipedia: The Free Encyclopedia. Wikimedia Foundation, Inc. 03 Mar. 2015. Web. 05 Mar. 2015. ‹https://en.wikipedia.org/wiki/Pauli_Murray#Academia_and_priesthood›.
Posted By
Syfrett, Dykes & Furr
Categories: